Torafugu-tei Ryogoku
Menu

※Image is for illustration purposes.There may be different with foodstuffs and dishes.
Take Out Se <Same-day reservations are available>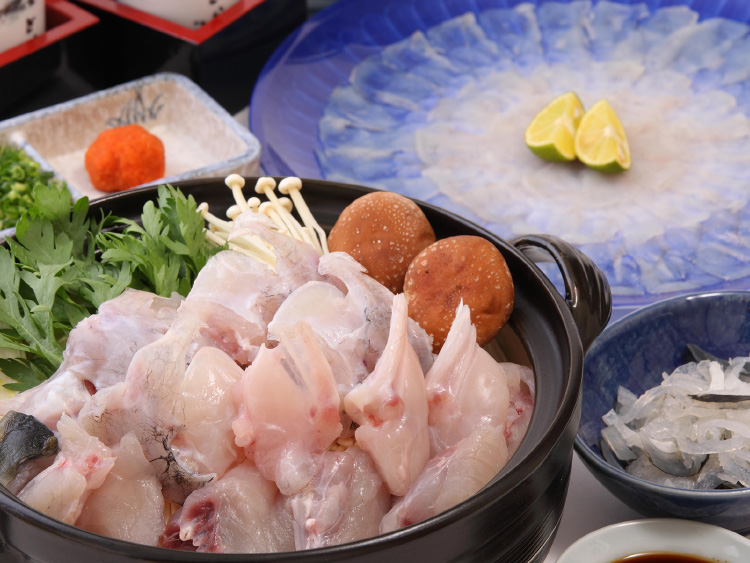 When you come up with a party with family at home, you can buy and take back immediately.
・You can order at the store and take back to home at your appointed time (Telephone resetvation must be ordered up to 3 hours before) Delivery time is from 15 o'clock until the close time of the store.
Depending on the store and delivery date, delivery time may be changed. Please contact the store about the details,
・Vegetables ,Tofu is included, a very convenient set.
・The stores in Kanagawa-prefecture don`t sell take-out sets.
Accept telephone reservation
Fugu Hot Pot(include vegetables)
For 2 people 5,500yen(excluding tax)
Flesh of Fugu(260g)
vegetables, Tofu(For 2 people)
Torafugu-Tei Citrus Ponzu
Grilled Fugu fins for Hire Sake
Yakumi(green onion and radish mud with chili)
Kelp of soup-stock
For 3 people 7,500yen(excluding tax)
Flesh of Fugu(390g)
vegetables, Tofu(For 3 people)
Torafugu-Tei Citrus Ponzu
Grilled Fugu fins for Hire Sake
Yakumi(green onion and radish mud with chili)
Kelp of soup-stock
Fugu Sashimi, Fugu Hot Pot(include vegetables)
For 2 people 9,000yen(excluding tax)
Sashimi(60g)
Flesh of Fugu(260g)
Sashimi of parboiled blowfish skin(50g)
vegetables, Tofu(For 2 people)
Torafugu-Tei Citrus Ponzu
Grilled Fugu fins for Hire Sake
Yakumi(green onion and radish mud with chili)
Kelp of soup-stock
For 3 people 12,000yen(excluding tax)
Sashimi(80g)
Flesh of Fugu(390g)
Sashimi of parboiled blowfish skin(75g)
vegetables, Tofu(For 3 people)
Torafugu-Tei Citrus Ponzu
Grilled Fugu fins for Hire Sake
Yakumi(green onion and radish mud with chili)
Kelp of soup-stock

---